Hello Friends,
I recently came across the French phrase "Joie De Vivre". When I looked it up, I found that it means exuberant enjoyment of life. Naturally, I associated this sentiment with the current holiday season, a time of year when there is magic and cheer in the air! Our homes aglow with christmas lights. Our bodies warm from the heat radiating from fireplaces and cozy sweaters. Our bellies brimming with eggnog and fruit cake. Our hearts full as we connect with those we love and gift each other with thoughtfulness. As I continued to frame this holiday season through the lens of Joie De Vivre, an exuberant enjoyment of life, I felt encouraged to do just that!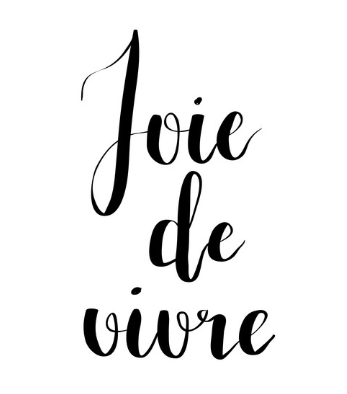 It baffles me that we go through so many of these joyous seasons, yet find ourselves struggling to fully enjoy them. Often times, we're too overwhelmed by multiple parties, traveling on wintry roads, casserole overload, and the chaos that ensues! I don't know about you, but I hate feeling like I am going through the motions, anticipating and planning things just to have them come and go, like something to check off a list. But exchanging gifts with close friends and sharing Christmas dinner with your family should not be approached with the same nonchalance as checking butter off your grocery list is. These sacred moments we share together each season are just that, sacred. Leaning into this exuberant enjoyment of life is a choice!
It requires us to be present and lean into the moments we find ourselves disengaging. Is it possible to find joy in those mundane motions? Like stirring the cream cheese into your mashed potatoes (yes, I said cream cheese. Try it!). Or setting the table with care and beauty. Listening intently, with the intention to understand rather than be understood. I know that being present in these simple moments is what exuberantly enjoying life means for me. How will it look and sound for you?

To assist in your engagement at your next holiday gathering, I've included a few conversation starters:
1. If you could be reincarnated as any animal, what animal would you choose?
2. Do you know how both sets of your grandparents met?
3. At what age should a person be considered an adult?
4. When you were a kid, what did you want to be when you grew up?
Finally, if you haven't tried it yet, the VERY BEST eggnog ever is AE Classic Eggnog - only found at Hy-Vee. Even if you're not a huge nog fan, this might just convince you otherwise.
Enjoy, and Happy Holidays!!
Chandra

Selling Your Home?
Get your home's value - our custom reports include accurate and up to date information.
Get Home Value