MATT'S MONTHLY MINUTE - DECEMBER 2017
Hi Friends,
We'd like to welcome Madeline Bohrod to the Matt Winzenried Real Estate Partners
team! Madeline has been a Realtor for almost 2 years. Here's a little bit more about
her;

What I remember most about my childhood is the neighborhood I grew up in. It was on the eastside of Madison and it was one of those neighborhoods where everyone knew each other. In my household, TV time was limited to 1 hour a day, so much of my free time was spent outdoors playing with friends and family. We had neighborhood festivals, friends that lived around the block, nighttime curfews and neighbors always watching out for us.
I loved growing up that way. I love looking back on my childhood and having those memories of people and experiences. It gave me my sense of community, that I still feel very strongly about today. Every day I appreciate the fact that I grew up in a place that I can always call home, whether I live there or not.
That's why I became a Realtor. I want to be make sure people find not just a house, but a home and a sense of community. I have been a Real Estate agent for almost 2 years now and I couldn't be happier. The people I have been able to meet and work with have made my job and my life much more fulfilling and I can't wait to see what the future brings!
Madeline will be a great addition to our team, we're glad to welcome her into the fold.
Happy Holidays from our team,
Matt, Kelly, Andrew,
Brittnie, Angie, Ally,
John, and Madeline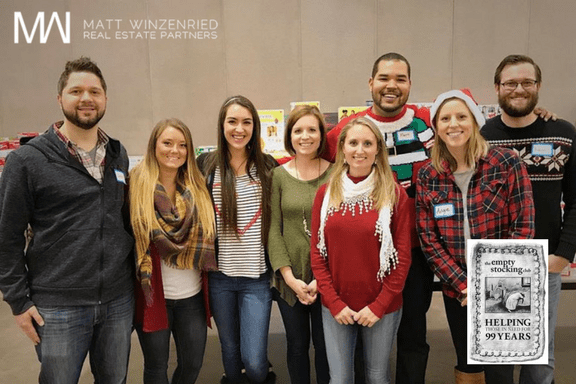 Team pic from volunteering with The Empty Stockings Club